Sang e Mah has launched with a boom thanks to the writings of Mustafa Afridi, the directing of Saife Hassan, and the production of Momina Duraid. Even from the first episode, it was clear that this would be a compelling narrative with some unique and intriguing characters. The team's ability to create a different atmosphere didn't remind a bit of Sang e Marmar. However, so many renowned performers have been a part of both projects. The first episode laid a solid framework for the rest of the season.
We are looking forward to following the stories of these intriguing individuals.
Characters and Cast
Nauman Ejaz stars as Haji Marjan Khan, while Samiya Mumtaz portrays his wife Zarsanga, the mother of Hikmat (Atif Aslam) and Hilmand (Ejaz) (Zaviyar Noman). Hikmat, the youngest and arguably the most adored family member has a very basic outlook on life. When it comes to other people's opinions, the elder Hilmand doesn't hold back when expressing his own. The one person over whom Marjan has no influence is his own son Hilmand, even though he is one of the tribe's most respected members. When Marjan and Hilmand were pitted against one another, it was fascinating to see Marjan crumble in front of his kid.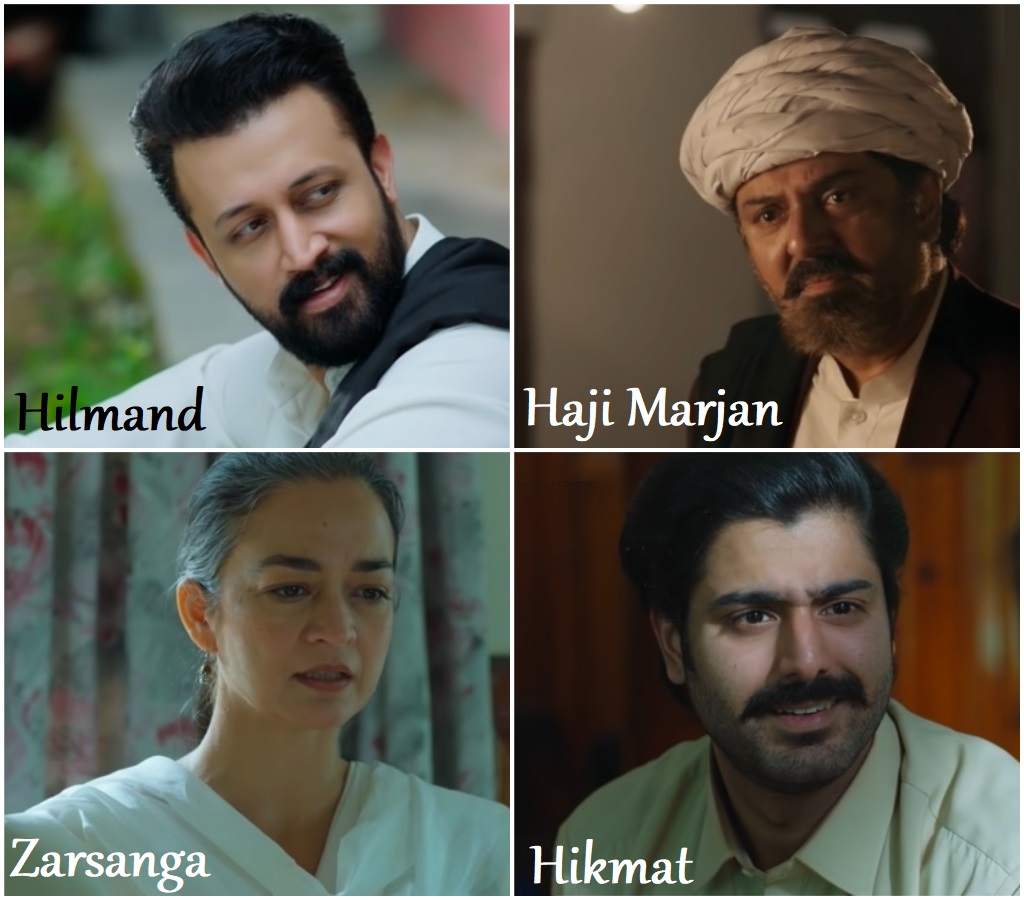 As Sania Saeed portrays Zarghona, she has renounced her clan and lived her design life ever since. Gulmeena (Hania Amir), her daughter, loves Hikmat, her cousin. Despite Zarghona's best efforts, she and her sister Zarsanga have broken up. Gulmeena and Hikmat believe they can be married, but Zarghona has made it obvious that it would never happen. Some of the best parts of this episode were Hikmat and Gulmeena's conversations since they proved that love couldn't view things any other way. On the other side, he constantly brings out the kid in his mother, who has extremely firm ideas and a very strong belief system. He also has an assistant, Badam Gul, played by Hassan Noman, who has a major role in the tale. There is so much more to him than what was shown in the little introduction he received.
Even though they've been engaged for 20 years, Harshali (Najiba Faiz) and her fiance (Omair Rana) belong to the Sikh culture. They have yet to wed. Because of this, Harshali is still waiting for him, but his self-imposed penance means that he has turned his back on any happiness that may come into his life. Even though it was brief, their introduction piqued our curiosity in learning more about them and how they are connected to the Marjan Khan tribe.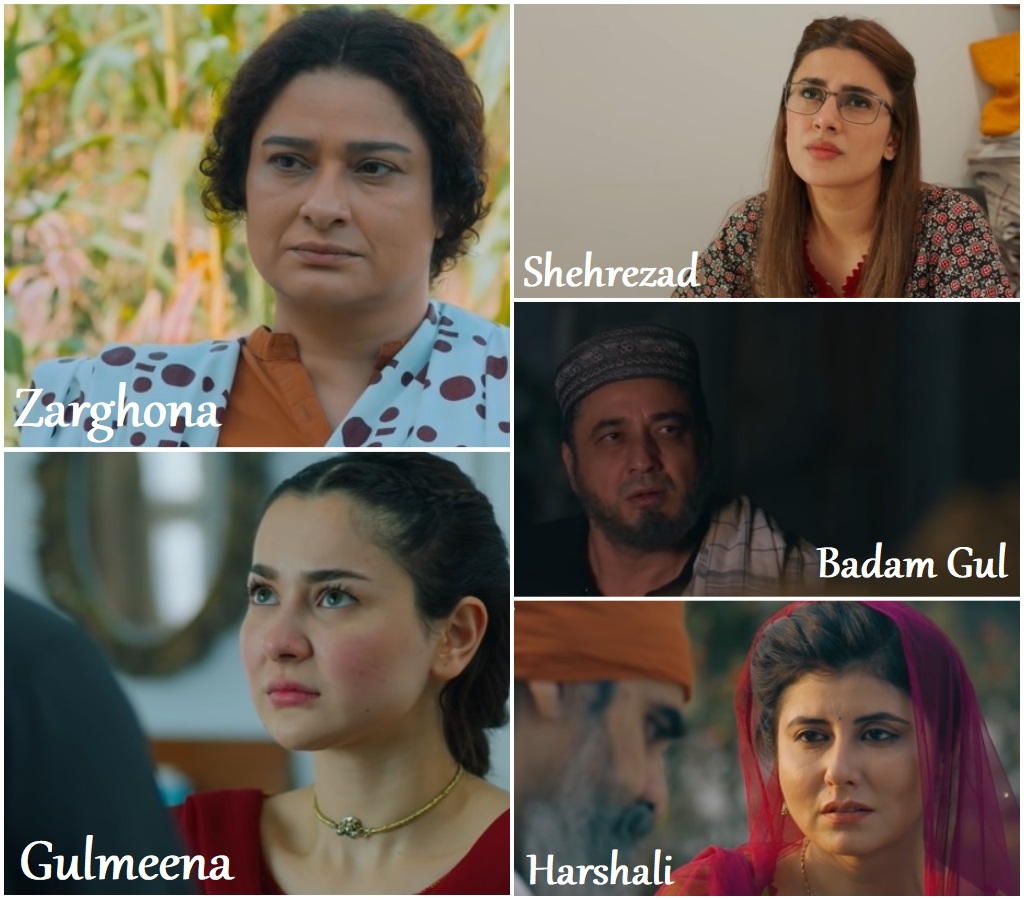 It was also in the first episode when the notion of Gagh was introduced as something that is now considered criminal. When a male is infatuated with a woman, he will exclaim, "Gagh!" as a sign of affection. To let everyone know that she belongs to him and that no one should even contemplate getting married, he shoots bullets into the area around her. Sabz Ali appears to have committed Gagh while under the influence of alcohol, and the jirga will now determine whether or not to punish him. It seemed that Zarsangha's perspective on this issue was quite grave and harsh. That gave us an idea of who she was and how she thought. Zarsangha's words about Gagh not only surprised Marjan Khan, but they also revealed that these feelings were exploding from a wound that she, too, had undoubtedly suffered. Hikmat's casual mention of Gagh to claim Gulmeena as his own at the close of the episode lays the groundwork for what lies ahead for this family in the future.
Hilmand Khan will be a fascinating guy to watch and learn more about, that's for sure. We are eager to see what else he has to offer after this episode's little glimpse into his backstory. Hilmand's conversations were wonderfully written and demonstrated the profound thinker, poetic, and philosophical Hilmand was via his poetic and philosophical writing style. It's clear that he feels cut off from the circus and seeks refuge in the graveyard's solitude. In viewing this episode, we couldn't help but think about how well Hilmand was written for Atif Aslam. Hilmand's aura, distinctiveness, and screen presence necessitated that he be played by someone having these qualities. Atif Aslam did an excellent job portraying Hilmand, and I could recognize aspects of his charisma in character.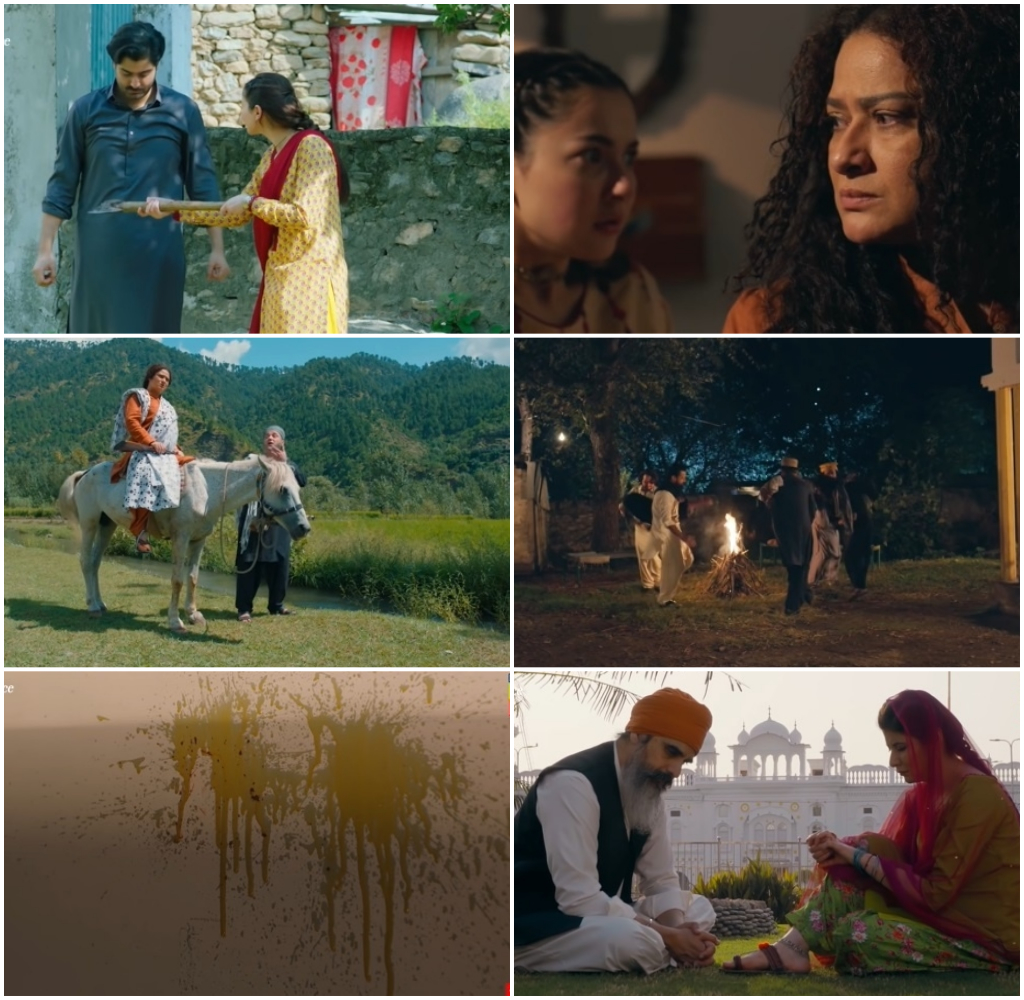 Exciting and Surprising
Sang e Mah's premiere episode was jam-packed with twists and turns. Again, Omair Rana and Najiba Faiz were a nice couple in Sang e Marmar, and it was great to see them together again in this film. Adding Kubra Khan as a journalist was a pleasant surprise. Samiya Mumtaz masterfully played Zarsangha's role in this episode, which was my highlight. Her tone, expressions, wrath, and all the other emotions she felt while discussing Sabz Ali's Gagh were astounding. Nauman Ejaz's powerful screen presence enthralled me. The on-screen chemistry between Hikmat and Gulmeena was handled beautifully by Zaviyar Noman and Hania Amir. Both of them looked great while they were together. Zarghona, Sania Saeed's character, had an aura and a screen presence of its own.
The first episode of Sang e Mah has created the groundwork for the rest of the series. The Pukhtoon way of life was expertly shown on screen. It was as though they had transported me to another dimension where they were all genuine. This episode's Pushto accent was handled beautifully by Hania Amir. A solid effort was put out by Zaviyar Noman as well. No one can imitate Hassan Noman's Pushto accent like no one else. We believe that Atif Aslam's performance was enhanced by his decision not to speak with an accent. Because this was his first on-screen appearance and first drama, he made the appropriate option not to use an accent, which hampered his performance. Seeing Atif Aslam's accent was comforting since we could see the performers striving to keep up with it. Otherwise, it would have distracted the viewers.
Directing Sang e Mah's debut episode proved to be successful in every way possible. We were blown away by the atmosphere they created and the vitality they breathed into it. Zarghona's house and décor were lovely; they were modest yet effective. To say that Atif Aslam was the episode's standout performer would be an understatement, and the rest of the ensemble was as impressive. The quality of the production, the care is taken in every aspect, and the way it was all put together were excellent. We can't wait to see what happens in the rest of Sang e Mah. Share your opinion on Sang e Mah's first episode.