Shanaya's journey ended in this episode, but Azlan's adventure had just begun. The script for this episode was excellent, but the acting and direction in a couple of sequences fell short of expectations. Shanaya's departure from the show was foreseeable from the start because of the attention paid to the perils of her profession. In the post-marriage episodes, Azaan Sami Khan did an excellent job, but today he lacked the passion needed to make Shanaya's death as shocking as the script called for it to be.
The most disturbing aspect of this episode was Azka's response. It was not in keeping with her character's more idealistic tendencies at the moment. Much more impact might have been achieved by compromising on the "visual" element of some sequences, such as when Azlan is carrying Shanaya and sprinting to the car and when there are no bloodstains on her clothes after being shot! This episode was largely significant. Some of the more experienced performers outperformed the main cast! These moments lost their realism when Sajal Aly's general appearance didn't mesh well with them, making her performance all the more impressive. Who dons a semi-formal outfit to hunt out kidnappers and murderers?
The Ending Is Shocking
Azlan and Shanaya's relationship was a breath of fresh air for a short period. One of my favorite on-screen couples was Azlan's steady transformation into a more mature persona following their marriage. After all these years, it was obvious that this lovely love tale would be cut short. It was also obvious from the start that Azlan would have a significant personal growth experience due to this adventure. The "definition" of "Ishq-e-Laa" during the first two episodes hinted at a major spiritual component to the plot.
Even if some of the essential components of the narrative have been foreseeable, Ishq-e-Laa has, for the most part, kept my attention alive. As Shanaya put herself in danger again, tonight's episode demonstrated that she didn't give a second thought to the consequences. In times of danger, Shanaya's faith in Allah was so strong that she didn't take proper safety precautions, even when they were necessary! Although we thought this side of her personality was a bit excessive. We never doubted her good intentions, so we was more concerned about her well-being than annoyed by her. In this episode, Azlan had the best reaction to Shanaya being shot and struggling for her life, even if Azaan Sami Khan had a disappointing Ishq-e-Laa performance.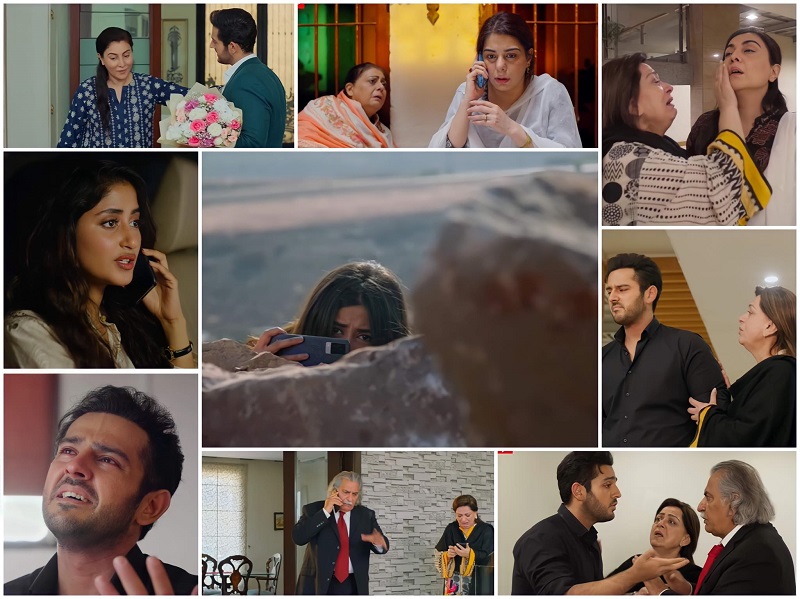 Azlan was always seen as someone who preferred to be in charge. Unlike Shanaya, he was certain that he could manage his life as he pleased, and he did not rely on God or fate for his decisions. Aside from grieving over his beloved wife, he was also enraged and frustrated because he had lost control of his emotions. To make matters worse, he misspoke during his prayers to Allah. As good as Azlan's sentiments were written down by the author, Azaan Sami Khan might have brought these events to life in a more realistic manner. Because of the precision with which he expressed himself, we could comprehend his grief.
After learning of Shanaya's death, we fully expected Azka to react very differently. As a well-educated young woman, she should have put two and two together, but she was distracted by more pressing concerns. To understand her mother's reaction, you had to understand her daadi's reaction.
Last Words
This week's Ishq e Laa episode saw an unexpected turn in the plot. The Azlan and Azka may now be the primary focus. Even after Azaan Sami Khan's mediocre performance tonight, we are still intrigued by Azlan's music. However, Azka's track has failed to captivate us Ishq-e-Laa. For the time being, she's sending conflicting messages to her fans. Despite his lack of trust in Allah, we believe Azlan was gradually becoming a better guy. The author might have made the "lesson" he's about to learn more relatable by allowing the bad aspects of his character to continue to exist until this time. There is no doubt that he has a long way to go, and this loss might prove to be a gift in disguise for him. Azaan Sami Khan has been cast as Azlan, and we are hoping he does a good job portraying the role. Audience is excited to see what the author has planned for us next. There must have been a camera at the crime scene; will Azlan and his father be able to catch the killers? When and where will Azlan and Azka next cross paths? It intrigues me, so we will have to wait and see.