White Korma Recipe
Today I make a tasty and delicious white korma recipe. I love to make and eat white korma recipes. Mostly I make it for my family and especially for my special guests. The white korma recipe has amazing flavor and the aroma taste wins your heart. The white gravy and balanced spices are outstanding. Their yummy and very rich flavor insisted I make it again and again. 
Ready to devour the White Chicken Korma, a hearty twist on the traditional Red Korma? Korma is richly aromatic and full of creamy flavors of hot yogurt sauce. And it doesn't require frying the onions at all! And it's only a 35-minute recipe that never disappoints.
White Chicken Korma served on a white plate on a black background. Update: The recipe has been updated with an easier method and fresher photos.
Make this rich and creamy white chicken korma to complete your next desi party. It's creamy and unsaturated with lots of spices. Rich and with coconut delights. Wait! Coconut haters can use cream.
Hello! Did you know that many people confuse white korma recipe, white karahi, and white handi? There are those who think they are all the same and end up mixing the ingredients.
Although the ingredients are similar, they have different flavors and appearances. Any karahi, korma, or handi can be made with chicken, beef, mutton, or lamb.
WHAT IS WHITE CHICKEN KORMA?
White Korma is a white version of the traditional red Chicken Korma. It consists of onion paste, various garam masalas, cashew or almond paste, and yogurt. It has milder notes of kewra and cardamom flavor than a traditional korma.
RECIPE INGREDIENTS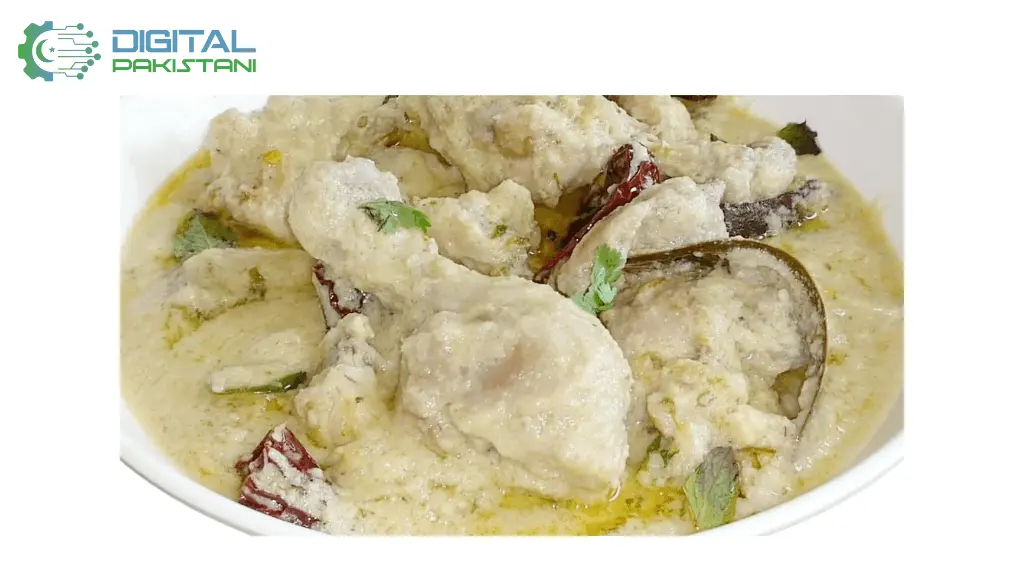 Here are the ingredients you need to make this delicious and very tasty white korma recipe.
Whole Spices
4 cloves, (lung)

1-inch cinnamon, dar Cheeni 

1 black cardamom, (bari elaichi)

1-star anise

1 medium onion, mashed into a paste

1 tablespoon green chili paste

1 tablespoon ginger garlic paste
Ground Spices
1 teaspoon of cumin powder

½ teaspoon green cardamom powder

½ teaspoon of white pepper

½ teaspoon garam masala powder plus more for garnish
Other
½ kg chicken

½ cup water or more
Cashew Nut Paste
½ cup coconut milk or ¼ cup heavy cream

12 cashews or white almonds, plus more for garnish

½ cup plain yogurt

2 tablespoons grated coconut, optional

2 teaspoons of Kewra water
The best recipe for the best white korma recipe is because it's not loaded with tons of spices that make it heavy like traditional korma. It's made in one pot and the recipe is instant with clear steps. It's rich and creamy, and there are so many delicious and creamy ingredients in the recipe.
The ingredients of White Korma (also called White Korma recipe and White Qorma) are clearly listed as
Chicken: 
Bone-in chicken tastes best in Korma. You can also make this recipe with meatballs and mutton.
Chili, Ginger, and Garlic: 
You mix them when you make fresh pasta.
Onion: 
Dice the onion and puree until smooth.
Whole Spices: 
I used core spices like black cardamom, cloves, cinnamon, and star anise. If you don't have the dressing, leave it out.
Ground Spices: 
I used cumin powder, garam masala powder, white pepper, and green cardamom powder.
Grated Coconut: 
This ingredient is optional.
Cashews: 
I find cashews easier to blend into a paste than almonds, so I prefer them in curries. You can use almonds to make sure you mix them well. 
Cream: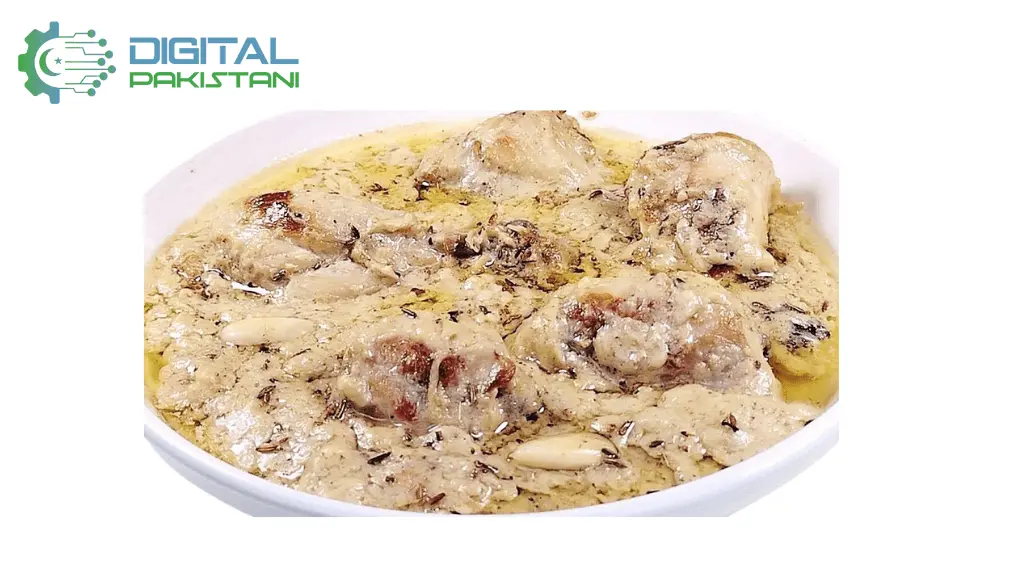 I used coconut cream in this recipe. I made the coconut cream by mixing about 4 tablespoons of coconut powder with some water. I tried this recipe with milk cream and it is definitely very good.
Yogurt: Use plain, unsweetened yogurt.
oil
How to make it
Honestly, the recipe is so simple and the collage of steps is so well written, I have a feeling you'll skip the text. See I got you! Be sure to check out the tips from the pros because I promise they will save you from mistakes and make you an expert in the kitchen.
STEPS TO ROASTING SPICES AND CHICKEN
Heat the oil in a pan and sauté the whole spices until the spices are mixed together 1 minute.
Pro Tip: You'll see the cloves swell a bit.
Add onion paste immediately to prevent the spices from burning and losing their flavor.

For the onion paste, 2–3 minutes until it changes color and the onion water has dried. 

Be patient and don't jump to the next step too quickly. Add the ground spices and mix.

Time to add the chicken. 

Stir-fry the chicken until it changes color and you can see golden flecks on it.

Steps to make chicken korma.

Add the water and stir to loosen the spices from the sides of the pan. Then cover the pan and cook the chicken over medium-high heat for 15 minutes, or until tender.

Puree cashew nuts, cream, coconut flakes, and yogurt in a blender. 

Mix until smooth.

Add the white puree mixed with the cooked chicken. 

Stir chicken and simmer for 5 minutes or until oil begins to run from the sides of the pan.

White chicken korma on a plate.

Now our yummy and tasty

white korma recipe.
HOW TO SERVE?
White Korma served with naan or garlic naan for the best flavor. Always pair it with a fresh salad like sliced ​​onions, cucumbers, and tomatoes. White korma served with cashews and naan bread to serve alone. You can also Freeze and Store it for a few days to use it. You must try this delicious white korma recipe, it never disappointed you. What do you about this amazing and very tasty recipe? Make, Serve, and Enjoy it!